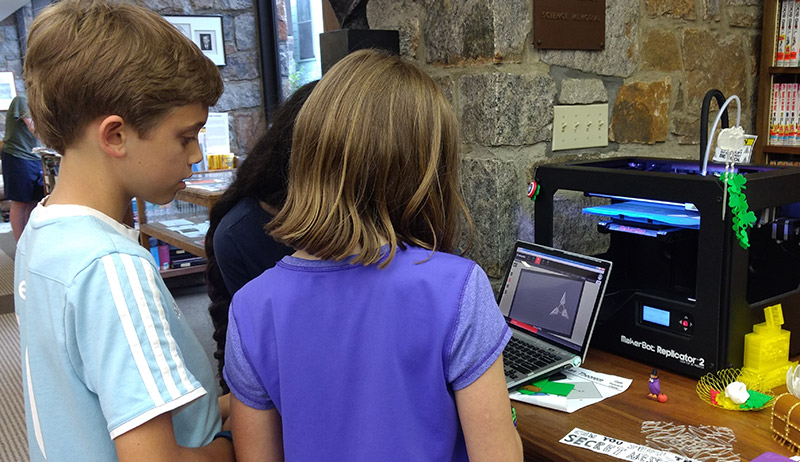 The Katonah Village Library has a Replicator 2 3D printer for use by its patrons. 3D Printer users under 12 years old must be accompanied by a parent/guardian.
What is 3D Printing and How Does it Work?
3D printing is the process of making a physical object from a digital design. It begins with a digital design created using a 3D modeling program. This can be done with programs such as SketchUp, Blender, etc., and/or a 3D scanner/digitizer. Designs others have made can be downloaded from the internet from sites such as thingiverse.com. Once the digital design is created, it is saved as a .STL file. This .STL file is then opened up in a program called MakerBot Desktop, where it can be sent to the 3D printer to print.
Plastic filament is fed through an extruder, which is like a motorized hot glue gun, heating and squirting out plastic into thin layers. The 3D printer builds an object by building one layer on top of the next, until the object is complete. For more in-depth information, please see Introduction to 3D Printing.
Why 3D Print?
3D printing is used recreationally to make custom toys and jewelry. It is also used as a supplement to teaching various subjects, such as robot parts for an engineering class. Small businesses often like using 3D printers for demo models and prototyping. Medically, 3D printing is well suited for making custom fit prosthetics for amputees. For more information check out the library's Wonders of 3D Printing powerpoint.
Supervised 3D Printing:
Patrons are allowed to print under the supervision of the 3D Printing Instructor by appointment after attending one training lesson and signing our 3D Printer Policy. An appointment must be made in person or over the phone 914-232- 3508. Printing hours are subject to change depending on staff availability and/or weather conditions. Appointments are for 1 hour. If your project exceeds 1 hour, depending on availability, you may book a longer appointment.
Unsupervised 3D Printing:
Experienced patrons may use the 3D printer without supervision during regular library hours if they have a certification sticker. Please refer to 3D Printing Solo for tips on printing on your own.
To earn a certification sticker, patrons must:
Be a Westchester library patron
Attend at least one 1-on- 1 3D Printing Session
Sign & hand in to a librarian, or submit in the online test, the 3D Printer Policy.
Taken and passed the online test
The 3D Printing Instructor will then check the above and send you an email you may show a front desk librarian to receive your certification sticker.
Submitting a 3D Print Job

Patrons who have signed the 3D Printing Policy and attended at least one 1-on- 1 lesson, may also submit 3D Print Jobs to be printed by the 3D Printing Instructor for later pickup. See Submitting A 3D Print Job for full details.
Cost:
Cost is based off the amount of plastic used at a rate of $0.25 per gram. Payment for plastic used is expected even if a print fails. See the library's 3D Printing Check List for a full list of things to check to help ensure your 3D design will print.
Free 1-on-1 3D Printing Lessons
It is the ultimate responsibility of the library patron to ensure their print succeeds. 1-on- 1 lessons are available for free to:
Learn how to 3D model.
Learn how to 3D print.
Consult with a 3D Printing Instructor on a specific project.
Lessons are 1 hour each. Printing hours are subject to change depending on staff availability and/or weather conditions. An appointment can be made in person or over the phone at 914-232- 3508.
Hours:
The 3D Printing Instructor is available by appointment for lessons or supervised printing during the following time slots:
Friday
Saturday
Sunday
1 – 2 pm
11:30 – 12:30 pm
1:30 – 2:30 pm
2 – 3 pm
12:30 – 1:30 pm
2:30 – 3:30 pm
3 – 4 pm
1:30 – 2:30 pm
3:30 – 4:30 pm
4 – 5 pm
For More Information: