How do I get a library card?
If you live in the Town of Bedford and have a Katonah mailing address, just bring in a photo ID (driver's license, current passport, state employee ID card) with Katonah address, and we'll issue you a card on the spot. Children under 16 must bring a parent or legal guardian. The minimum age for acquiring a card is age 5. (Children should be able to write their first name.) If you live elsewhere in Westchester, we can direct you to your home library in the town where you pay your residential taxes. If you live outside of Westchester, but work, own land, attend school, or pay taxes in Westchester, you can go to the library supported by your (or your employer's) tax dollars. If all else fails, the Westchester Library System will provide you with full library service for $75 per year.
How long can I keep this item (book, DVD, audiobook, magazine, pamphlet, CD, etc.)?
The Katonah Library circulates most hardcover books, paperbacks, audiobooks, and CDs for three weeks. New fiction, new fiction and DVD series go out for two weeks. Express books (7-day new books), magazines, and DVDs circulate for a week. Children's books and audiobooks can be kept for three weeks. Many items are renewable, unless someone else is waiting.
Can I return a library item when the library is closed?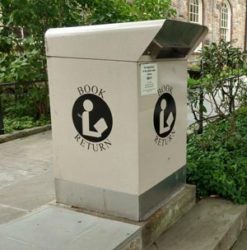 The Katonah Library has a book drop at the corner of Bedford Road and Parkway in front of the library. The book drop is always open, and you may return any library materials there, including DVDs. The drop is emptied at least twice a day — your library item will be taken off your record immediately.
Please note:
do not park directly in front of the book drop as it has been deemed a no parking area by the Town of Bedford.
Can I return a KVL item to another library?
All types of library media may be returned to other libraries in Westchester County. Other libraries can accept payment of overdue fines on an item.
My book is overdue. Should I put it in the book drop or wait until I can go in to return it in person?
Returning a book in the drop stops the fine. Don't worry, the computer circulation system will remind you about the fine the next time you check something out.
Can I pay my library fines online?
Yes, you can! Please visit
this page
for more details on making an online payment.
May I renew an item?
Books, magazines, pamphlets, DVDs, music CDs, and audiobooks may be renewed one time either by telephone or in person when the library is open, or online 24 hours a day. Renewals are not available for items on hold for someone else. You may renew an item yourself by checking into your account at the top of the
Westchester Library System homepage
.
What school districts are in the Katonah area?
Most Katonah residents with school-aged children are served by the Katonah-Lewisboro School District, which is comprised of three elementary schools, John Jay Middle School, and John Jay High School. For those of you filling out college applications, financial aid forms, or income tax forms, Katonah-Lewisboro is School District 316. A small percentage of Katonah's children attend schools in the Bedford Central School District.
How do I get more information on your programs and events?
Our adult and children's e-newsletters are sent out twice a month by e-mail. Opt-in at the link above the menu, sign up at one of the circulation desks or send an email to
katref@wlsmail.org
with your name and telephone number. Local newspapers frequently list the library's programs.
Does the library have a book sale?
Yes, around the third week in October there's a big sale, which is an important factor in the library's annual budget (30% or more of the budget comes from donations and fund-raising events like the book sale.) Books, DVDs, CDs, and audiobooks donated by the public are available at tag sale prices. And there are two year-round Book Sale tables set up on the main floor of the library which includes some children's items.
For more information about the book sale click here
.
Can I donate books to the book sale?
The library welcomes donations large and small, both adult and children's items, starting in February and continuing through the end of mid-Summer. Books may be brought to the Book Sale Room any time the Library is open. We welcome DVDs and CDs in addition to hardcover and paperback books in good condition; we are sorry to say we cannot accept magazines, textbooks, audio or video cassettes, encyclopedias, LPs, or out-of-date travel and financial books. Please give books the "sniff test" before you bring them in — if they've been stored in a basement or garage, they may be unusable. It's hard to throw away a book, but you can do it as well as we can. For more information about the book sale
click here
.
What can I do to help?
We love volunteers!
Adult volunteers fill important roles at the Library including:
Staffing the Library on Sundays from autumn to late spring so we can be open
Keeping the book shelves organized
Collecting donations, organizing and staffing the Library Book Sale
Performing clerical tasks or help with mailings for Library fund-raising events
Serving as computer aides to help Library patrons learn computer basics and how to use other electronic devices like e-readers, i-Pads, i-Phones, etc.
Teens are needed year-round to assist the Children's Librarian with programs and keeping their dedicated Library spaces organized. If you are interested in helping, please call us at 914-232-3508 or drop in.
Where did you get that clock?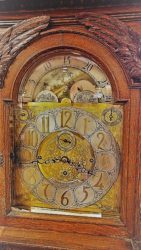 The Library's Grandfather clock is over 8 feet tall. It was probably built before 1895, and must have been an expensive item: the clockworks are intricate, and the cabinet work equally so. The clock was donated to the Library by a townsperson in the 1920s, and has guarded the readers' time continually since then. The clock is wound with a key once a week. Called a "planter's clock, " it shows the phases of the moon; the Westminster chimes play on the quarter hours, and solemn bongs mark the hours. Generations of children have stood in awe of both the sound and the stern gentleman's face carved above the lintel.