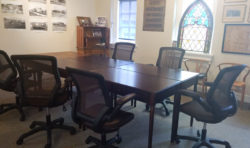 The McDuffie Writer's Room is the home of the McDuffie Writers' Co-op. It is a dedicated quiet space for writing and contemplative work. Because this is a communal working space, writers are asked to respect one another, and refrain from cell phone usage and speaking loudly.
The room has 7 desks. A desk can be reserved for one, two, or three hour time slots. Reservations can be made 24 hours in advance or the day of by calling the library's front desk (914-232-3508).
Usage of the Writer's Room is restricted to persons who have a signed a McDuffie Writer's Room User Agreement Form. This form must be signed each time a writer wants to use the room. Once the form is signed, the writer will then be given the access code to the door.
Individuals under 18 years of age are not allowed in the room unless accompanied by an adult. Library sponsored and co-sponsored programs have priority over all other room reservations and commercial usage of this room by individuals or groups is not allowed.